Organic White Rice NOodles
Sold Exclusively at Costco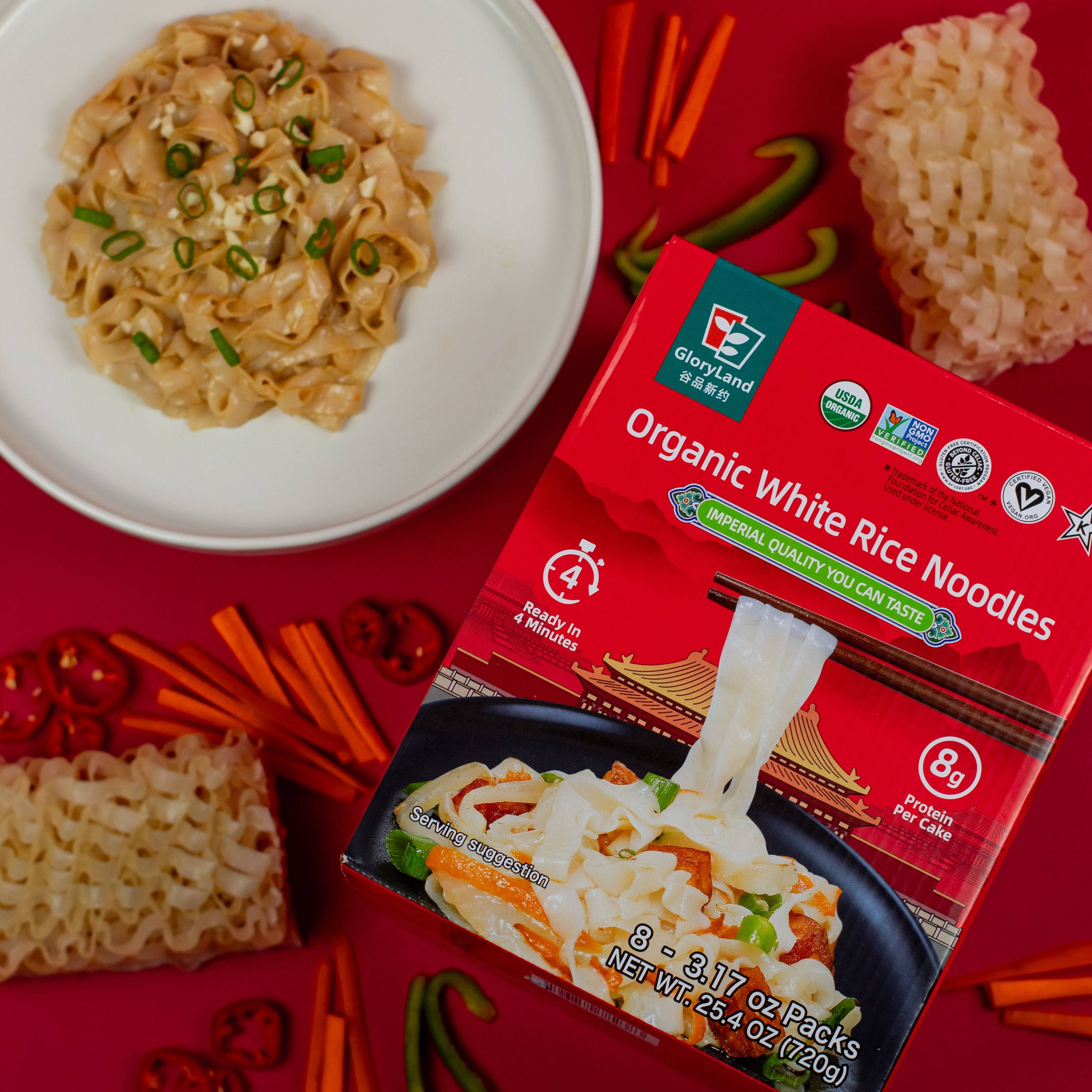 GloryLand Organic White Rice Noodles begin with our very special organic and Non-GMO Keng white rice which has a higher protein content than conventional white rice. It is grown in the UNESCO supported Xingkai Lake Reserve in the northeastern region of China, in highly nutrient and mineral rich black soil in the world's northernmost cold rice planting region (43°~47°N). The rice is milled and thoroughly tested before we lovingly transform it through a long process of massaging the rice into our delicious and healthy noodles. It is made of just one ingredient, no chemicals or oils ever used.
Organic
Gluten Free
Non-GMO
Vegan
Kosher
Only available in Costco
Ready in 4 minutes
8g protein per cake
We'd love to share some tips and tricks for cooking.
1
. When we cook with any additional ingredients, our chefs cook everything else first. For example, we first cook vegetables, protein, sauce/soup, etc. before cooking the noodles. That way, as soon as the noodles are ready they can be quickly strained and added to the serving dish with all the other cooked ingredients.
Things to avoid are: A) letting the noodles sit for too long before serving, and B) adding the noodles to the pan with other ingredients. Instead, we recommend adding everything into the serving dish, mixing as needed and serving right away.
2. After the water boils, we recommend turning off the heat. Then cooking for a total of 4 minutes, while stirring gently. The noodles should be tender but not too soft. *Think "al dente" for Italian pasta* That way, when you mix the noodles with everything else, they should maintain a nice consistency.
Each stove is a little different so we always recommend tasting the noodles as you go to confirm the consistency, before adding to your serving dish. As soon as the noodles are cooked, but not too soft, strain them and add to the serving dish.
Here's a list of our favorites:
Sunday,Monday,Tuesday,Wednesday,Thursday,Friday,Saturday
January,February,March,April,May,June,July,August,September,October,November,December
Not enough items available. Only [max] left.
WARNING: Max settings 200 code custom color. If you want more than, please contact support us, Kind Regards!
IMPORTANT: Click on the button 'Update on online store' to code active on live theme.
Update on online store
Updating style
Updated style
Demo Swath, Label settings Preview: